Smart Mailbox Analyzer runs as a standalone tool and talks to your Outlook® mailboxes. You can pick any of your Outlook folders to analyse and it goes through every folder and subfolders within it. You can look at the results live on the screen or output a report with simple, visual charts and tables In Excel format.
Getting started is easy. Simply choose a Folder, click Start, then watch the action!

The results and charts are updated live. Choose different graph options to analyse your email stats, for different hours, days and months.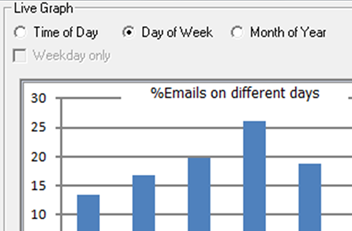 Click Results to get an Excel output of the summary as well as detailed data for further analysis.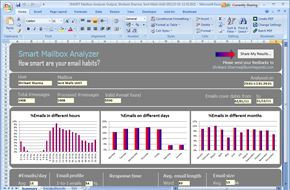 You can pause and restart the analysis at any time.
Move the cursor over any field to get quick help on it.

We suggest you to start with your Sent Items folder to understand your emailing habits. You can then analyse your Inbox to build a picture of the global email habits of people who email you. You can repeat the analysis on any of your previously saved folders too.
Check out the youtube video to see the tool in action.
You can analyse emails limited to a certain period, simply choose the dates in the Setup area.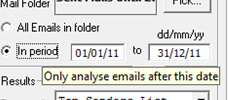 Happy analysing your email habits.